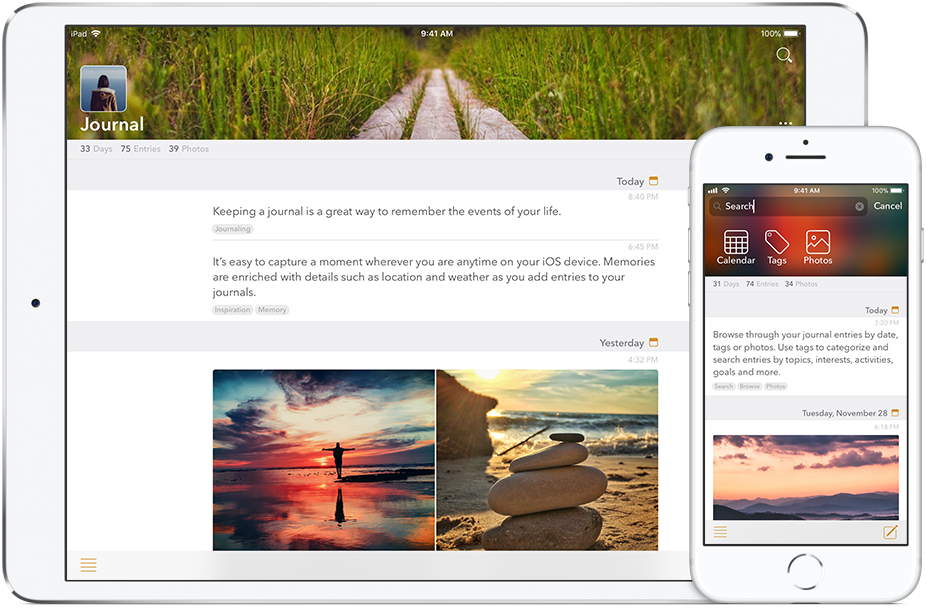 Written Down is a simple and modern way to journal everywhere you go.
YOUR MEMORIES
A journal is a great way to remember the events of your life. Keep track of your thoughts, feelings and experiences as you go through your day. Written Down makes it easy to quickly write about what is happening anytime.
JOURNAL EVERYWHERE
Your journals sync quickly, privately and securely across all your iOS devices via iCloud. You can even share journals with family and friends that sync quickly, privately and securely via iCloud.
SECURE AND PRIVATE
Lock your journals and keep them private using a passcode with support for unlock using Touch ID or Face ID.
MAKE IT YOURS
Pick your own journal colors, icons, and backgrounds. Choose different app themes, colors and typography to make Written Down beautifully yours.
THE DETAILS
Your entries are enriched with details such as time, date, location and weather as you add to your journals. Add tags to categorize and search your entries by topic, feeling, interest, activity, goal, people and more.
FEATURES
Unlimited entries
Unlimited journals
Unlimited photos
Sync quickly, privately and securely across devices via iCloud
Share journals privately with others via iCloud
Passcode lock with support for Touch ID or Face ID unlock
Entry reminders with notifications
Import and export formats
Backup and restore
Location added to entries
Add temperature and weather to entries
Tag entries to categorize and search
Search and browse entries by text, tag or date
Choose your own journal colors, icons, and backgrounds
App themes (including light and dark night themes)
Over 15 app typography choices
iOS Dynamic type size supported
iOS Smart invert supported